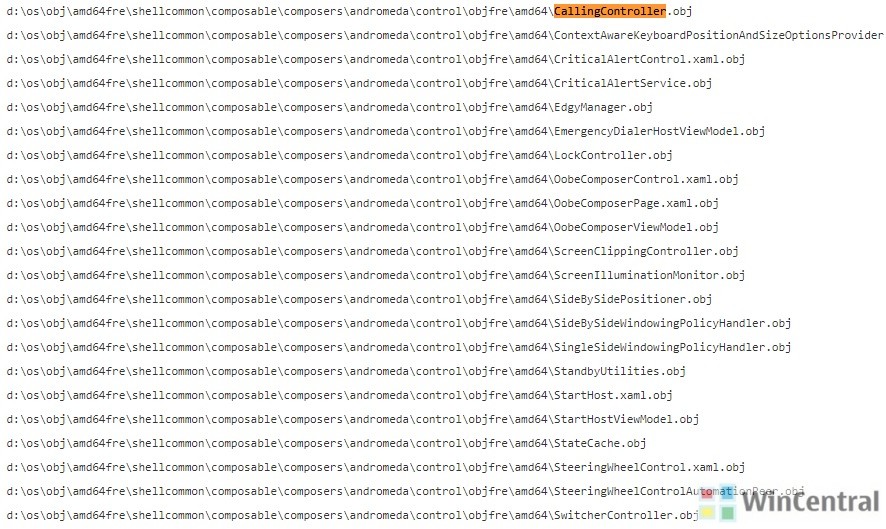 We just reported how the code-digging of a Windows 10 Insider build revealed references to Andromeda, Polaris, and Continuumphone. Andromeda is the upcoming mobile composable shell for the modular Windows that will power foldable dual-screen Surface Phone/Microsoft Andromeda device.  Now, the enthusiast "Walking Cat" has posted all the files found inside the composers on the insider preview build 17025.
here are all the .obj files inside composers from 17025, Andromeda has CallingController/EmergencyDialer like phone composer, also there are SideBySideWindowingPolicy/SingleSideWindowingPolicy etc. https://t.co/wJqpuphfSE

— WalkingCat (@h0x0d) February 1, 2018
Andromeda is seen with phone composer like CallingController and EmergencyDialer features in the files posted by Walking Cat. Check the screenshot above. It also has SideBySideWindowingPolicy and SingleSideWindowingPolicy indicating at Tablet and Mobile modes of the dual-screen Surface Phone/Microsoft Andromeda phone.
We have been reporting about Microsoft working on a foldable dual-display Surface Mobile/Andromeda device. We even posted exclusive details about this device and you can read our exclusive coverage of Surface Phone/Andromeda top features/specs, photos & other details here.
Some recent developments like the appearance of the Apps Hub for the Andromeda device with Windows 8828080 which is, in fact, the Windows 10 with Andromeda composable shell also hint that Microsoft is preparing the eco-system to support it.