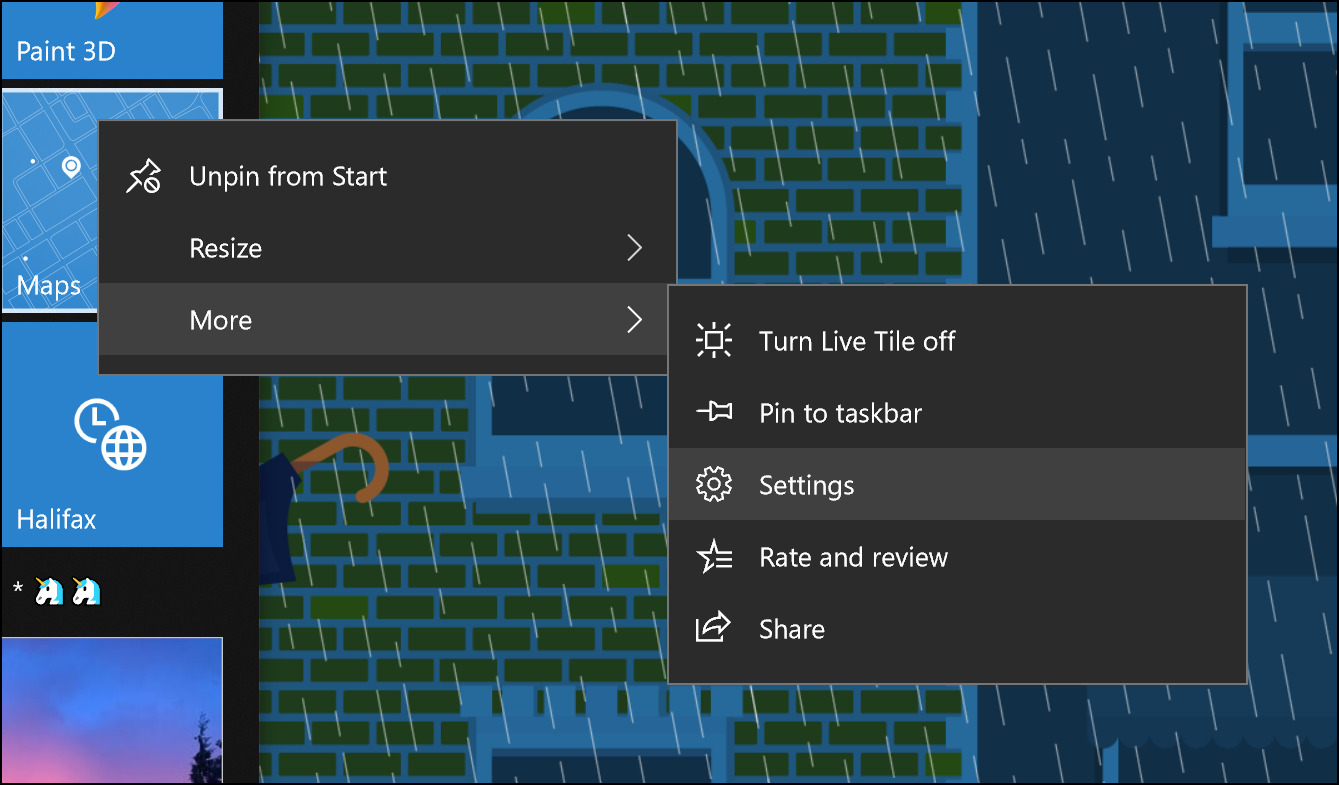 On this page, we have collated all the changes and new features brought by all Windows 10 Redstone 4 (Version 1803) insider builds so far. We will keep this page updated with new changes/features brought by newer preview builds.
You can bookmark this page to refer back to see the collated changelog for Windows 10 Redstone 4 (Version 1803).
Cool New features:
Introducing Near Share: Say you're in a meeting with your boss and need to quickly send them the report you're looking at on your screen? Or you and a sibling are hanging out on the couch using your laptops, and you want to send him a screenshot of your latest Minecraft creation? You can now wirelessly share files and URLs to nearby PCs using the new Near Share feature.
So how do you use it? If your PC supports Bluetooth: Ensure that Near Share is turned on for your PC (and the PC you are trying to Share with – that means both PCs will need to be on RS4 Build 17035+) – there's a new quick action in the Action Center that will need to be set to ON. If the quick action isn't immediately visible and your PC has Bluetooth, check if it's enabled under Settings > Notifications & Actions > "Add or remove quick actions".

Look for the Share icon in any of your favorite apps – e.g. Photos, Microsoft Edge, and or even File Explorer (right-click a file and choose Share).
Click on Share! You will now see a list of devices at the top – select the one you want to share to, any nearby PCs in Bluetooth range with the feature enabled should show up.
Once the recipient accepts (they will get a notification via Action Center to accept or decline), watch your file magically transfer wirelessly!
Microsoft Edge Improvements:
Mute-a-Tab! This build introduces a new experience for muting a tab playing audio. The audio icon that displays when a tab is playing media is now clickable and will mute the audio streams that tab is playing when clicked. The tabs audio will unmute when clicked again. This feature is also available from the context menu via the right click action on the tab. Thanks everyone who shared feedback requesting this! Have an opinion on what we should implement next? Please log feedback!
Save free EPUB books: If you're reading a free EPUB book from the web in Microsoft Edge and want to save it, you can now do that.
New context menu options for books: For your convenience, we've added a few new options when you right-click books in the Book pane, including View in Microsoft Store, Pin to Start, and Refresh books. Remove from here has been renamed Remove from device.
Form Fill for Address fields: Microsoft Edge can now save and automatically fill your preferred information in addresses and related forms. When filling in fields on a form, such as an address or other contact information, Microsoft Edge will prompt to save your form information. In the future, you can simply select the preferred information from a drop-down menu to complete all the related fields.
Addresses you save will be roamed between your Windows 10 devices, and you can manually add or remove form entries in Advanced Settings.
Text Spacing comes to Reading View: Much like when reading an EPUB book, you can now adjust the text spacing when you're in Reading View. To enter Reading View, open an article or blog post you're interested in, then tap the book icon next to the address bar. Adjusting the page to use wider spacing can improve reading fluency.
Windows Shell Improvements:
Access advanced UWP app options right from Start: We've added a new quick way to get to advanced options! Rather than click through Settings > Apps > Apps & Features > (finding your app) > Advanced Options, if you right-click a UWP app or UWP app tile in Start with this build you'll find a new Settings option under More which will take you straight there, where you can repair, manage app add-ons, and see startup tasks (if available). We have a goal to make this page the one stop shop for all of the app-related settings you can find across Settings – the Startup taskswork was the first part, but there's more to come, stay tuned!
Input Improvements:
Emoji data overhaul for the touch keyboard: We've taken a look at the emoji data across all of the languages we support and have updated it so that more of the emoji you love will appear as you're typing related words with the touch keyboard. We've also added support for a number of languages that didn't previously support emoji candidates. Please give it a try and let us know how it goes! Try typing words like unicorn, kiwi, artist, or turtle (in your language, of course ????) – primary candidate will be listed in the candidate list, any secondary candidates will be listed in the candidate list once you tap the emoji button. We still have a bit more work to do on the data that will come with a later flight, but you should see a noticeable improvement with this build.
This flight includes new and updated emoji data for over 150 languages including: Arabic (Saudi Arabia), Danish (Denmark), German (Germany), Greek (Greece), English (Great Britain), Spanish (Spain), Spanish (Mexico), Finnish (Finland), French (France), Hebrew (Israel), Hindi (India), Italian (Italy), Dutch (Netherlands), Norwegian (Norway), Polish (Poland), Portuguese (Brazilian), Portuguese (Portugal), Russian (Russia), Swedish (Sweden), and Turkish (Turkey).
NOTE: To see the emoji predictions as you type in a particular language, as well as typing predictions, you will need to have the optional typing feature applied for that language. It should download on its own as long as you have internet connection when you add the language to your language list, or once you connect to the internet thereafter. If you're not seeing predictions and have internet connectivity, try removing the language and then adding it back again.

Now you can use Emoji Panel to insert a bunch of emoji at once! Based on your feedback, we're adjusting the design of the Emoji Panel so that after opening up the panel by pressing hotkey Windows logo key + "." or ";", you could browse, search and then select more than one emoji. The panel won't go away until you click close button or press "Esc" key.

Note: The Emoji Panel is currently only available when the en-us keyboard is active.
Keyboard Improvements:
Bringing inclusive design to the hardware keyboard: We're introducing the ability to see text suggestions while typing on a hardware keyboard. You can see three text suggestions near caret while typing and choose candidates in text suggestions if you find a word you want to insert. Set focus to the first suggestion by tapping the up arrow key on your keyboard and using the left/right arrow keys to change focus. To select the desired candidate, tap space or enter.
This is an opt-in feature targeting English language learners, education and accessibility. We only support en-US at this time. To enable the feature, make sure English (United States) language is added in Settings > Time & languages > Region & languages, then set this feature to On by enabling the "Show text suggestions as I type on hardware keyboard" setting under Settings > Devices > Typing.
When the default location is set on your home or office PC, Cortana now knows to show you location-based reminders in the area on your PC. Your default location can be set in the Maps app.
We've updated Cortana Collections to now support light theme.
We're making some changes to the Data Usage settings page under Settings > Network & Internet — you'll notice some differences in this build. Not everything is working so stay tuned for an announcement in a later flight when everything is up and running.
We've updated the Action Center to now use Fluent Design's Reveal. You'll also notice we've updated "Clear all" to now say "Clear all notifications" to improve discoverability.
Now with Acrylic! With this build we've updated the touch keyboard to now have an acrylic background. This change is reflected in all keyboard layouts hosted in the XAML touch keyboard, including the wide layout, the one-handed layout, and the handwriting panel. Thanks everyone who logged feedback about this!
The standard touch keyboard layout option comes to 190+ more keyboards:We've been hard at work addressing your feedback, and we're happy to announce the touch keyboard now supports the standard keyboard layout for all languages except Korean, Japanese, Traditional Chinese and Simplified Chinese (which we're still working on). If you want to switch between wide, onehanded, and the standard touch keyboard layouts, just tap the button in the top left of the keyboard. This includes adding the standard keyboard layout to the following keyboards and more: English (United Kingdom), Irish, Czech, Danish, Greek, Canadian French, Finnish, Hebrew, Hungarian, Latvian, Dutch, and Polish. More details about touch keyboard usage hereif you need it.
Streamlined text insertion: In this release, we've added some slick new animations and changed the button layout of the handwriting panel based on your feedback. Ink some words in the panel and watch them appear in your selected text field!
Improved re-recognition of words: Write a letter on top of another, and the handwriting panel will recognize your corrections more accurately than ever before.
Use a gesture to create more space between words: Draw a "split" gesture between two words in the handwriting panel by drawing a vertical line between them. More space will be created where you drew the line so that you can write more in the newly-created space. As a reminder you can also draw a split gesture inside a word to break apart the word and ink more characters in the new space.
Shape-writing with wide touch keyboard: With the Fall Creators Update we introduced shape-writing input for one-handed keyboard. We've heard your feedback, and with today's build we're happy to announce that it's now also available when using the wide keyboard!
As a reminder, shape-writing is currently available for the following languages: Catalan (Catalan), Croatian (Croatia), Czech (Czech), Danish (Denmark), Dutch (Netherlands), English (India), English (United States), English (United Kingdom), Finnish (Finland), French (Canada), French (France), French (Switzerland), German (Germany), Greek (Greece), Hebrew (Israel), Hungarian (Hungary), Indonesian (Indonesia), Italian (Italy), Norwegian, Persian (Iran), Polish (Poland), Portuguese (Brazil), Portuguese (Portugal), Romanian (Romania), Russian (Russia), Spanish (Mexico), Spanish (Spain), Swedish (Sweden), Turkish (Turkey), and Vietnamese (Vietnam).
Improved Insertion Gesture: Based on your feedback about gesture recognition, we've updated the insertion gesture (to add space between words or letters) to now be a small caret (see below gif for a demo of what it looks like, along with a cameo of our joining gesture).
A New Commit Gesture: We've added a new gesture so you can automatically commit your text and clear out the text in the handwriting panel. This gesture looks like a 90 degree angle bracketing the end of your text – see gif below for an example of how it works.
Improved button layout for Chinese (Simplified) Handwriting: If you use Chinese (Simplified), you'll now see a layout similar to the one announced for other languages with Build 17035. The buttons in the handwriting panel are collapsed by default – tap the button with the ellipsis to expand them.
We're introducing a new keyboard for Tamil language called Tamil 99, as well as updated Sinhala, Myanmar, and Amharic keyboards
Tamil 99 keyboard (hardware keyboard, touch keyboard) is now available on Windows PC! We've added a new Tamil keyboard – if you speak this language and would like to try it out, make sure Tamil (India) is in your language list. Click that language entry in Region & Language Settings, then select Options > Add a keyboard > Tamil 99. Here's an example of how it looks on the touch keyboard:
The Sinhala and Myanmar keyboards have been updated to support more comprehensive ways of inputting sequences, forexamplethese now work: Sinhala: ෙ + ක -> කෙ, Myanmar: ေ + မ = eမ
In order to improve the Amharic typing experience, we've fully updated the Amharic keyboard so that you can now input compositions more comfortably. Instead of seeing English letters and a dropdown list of candidates while you type, you'll now see the Amharic script directly inserted into the text field.
Settings Improvements:
Windows Update Improvements: You can now limit the download bandwidth that is used in foreground downloads. Foreground downloads take place when you interactively start a download, for example – you click on "Check for updates" or start downloading an App from Windows Store.
Sound Settings are moving to Settings: You can now change some of your common sound settings, such as switching devices and troubleshooting, in Settings > System > Sound. Head on over for a preview of how sound settings are moving out of the legacy Control Panel and into the Settings app. We still have some things to add and fix on this page, so stay tuned!
Updated Ease of Access Settings: This build adds additional Ease of Access settings to further round out the revamping of settings which flighted for the first time with Build 17025. New sections on Display, Audio, Speech Recognition and Eye control (beta) have been added to group related settings. (NOTE: Eye control settings are not yet in this flight but coming soon.)
Also updated were Narrator settings to include a setting to control verbosity of text characteristics. And the layout in Color filters settings has been revised to provide filter descriptions.
We've updated the touch keyboard so that the margin between each key is visual only. This change will be noticeable if you accidentally overshoot the key press by just a tiny bit – before it might seem as if key presses were being dropped in this scenario.
Based on your feedback, the feature to restore applications that have registered for application restart after you reboot or shutdown (through power options available on the Start Menu and various other locations) has been set to only occur for users that have enabled "Use my sign-in info to automatically finish setting my device after an update or restart" in the Privacy section under Sign-in Options Settings.
We've added settings that let you view and manage your activity history, which Cortana uses to let you pick up where you left off. Find these settings in Settings > Privacy > Activity history.
Startup Settings: The list of apps that are configured to run at startup or user log-in is currently maintained via the Startup tab in Task Manager. As part of our ongoing effort to consolidate our settings experience, now you can configure them in Settings! In our new Startup page under Settings > Apps, you can see all startup tasks installed for the current user, and enable/disable each of them. We will also display the impact they have on your startup time, as shown in the below picture.
For more info about how UWP apps can appear listed as startup apps, see here. For more info about how win32 apps can appear listed as startup apps, see here.
Revamped Ease of Access Settings: This build adds new Ease of Access settings to make your device easier to use and fit your needs. We also grouped related settings together which help you see, hear or interact with your computer to assist in discovering settings more quickly. Additionally, we heard your feedback and improved setting descriptions to help you more easily understand the available accessibility features. Go to the Ease of Access section in Settings to see what's available to make your computer easier to use!
Controlling your Startup tasks: Continuing our work from the previous flight, with today's flight we've updated the Advanced options under Settings > Apps & Features so that UWP apps that are configured to run at startup will now have a new option to see all available tasks specified by the app developer and their status will now have a new option to see all available tasks specified by the app developer and their status.
Adjust the brightness of SDR content on your HDR display: Starting with Build 17040, Windows now lets you adjust how bright SDR content appears when running in HDR mode on the desktop. On an HDR capable system, you will see a slider in the "HDR and advanced color settings" page under Settings > System > Display. This is one of the improvements to HDR image quality that we have planned based on feedback from Insiders.

New Cursor, pointer, and touch feedback section in Ease of Access Settings:Continuing our recent efforts to reorganize this section in Settings, you'll notice that "change cursor thickness", "Change pointer size and color", and "Change touch feedback" have been moved to this new place.
Cortana improvements:
We've added settings that let you view and manage your activity history, which Cortana uses to let you pick up where you left off. Find these settings in Settings > Privacy > Activity history.
We've updated the icon for Collections in Cortana.
Introducing Cortana Collections: Cortana now saves you time and stress by noticing and remembering things for you and putting them at your fingertips. Cortana can gather things you're interested in such as items you shop for, restaurants, recipes, and books you'd like to check out, movies and TV shows you want to watch – and puts them all into neatly organized lists from which you can pick the ones you like best. Cortana is always learning, so the more you let Cortana help you, the more Cortana does for you. Check out the quest we've set up for more info on how to try this out and let us know what you think! (Available for EN-US Insiders only.)
Simplifying actions between Cortana and Action Center: In the previous feature updates of Windows 10 (including the Fall Creators Update), there were two places to go to see the next action you might need to take: Cortana and Action Center. We heard feedback that this was confusing as it wasn't clear where to go. The fact that Cortana's insights and recommended actions lived outside of Action Center also made it impossible to focus Cortana's user interface on Cortana's natural language and search capabilities. To fix both of these problems, Cortana's proactive content is going to migrate to Action Center so that you have one place to go to find out what action to take next and to see the important insights Cortana has for you. This frees up Cortana's user interface to provide tips, educating customers about what can be said to Cortana, and to provide tools for search so that you can get the information you need as quickly as possible. You will see the first part of this change starting with this build with Cortana no longer offering proactive content. Over time, you will see the proactive content that used to be available in Cortana show up in Action Center.
Font improvements:
Evolving the Microsoft Yahei Font: As our Insiders from China likely know, Microsoft Yahei is the font we use to display Windows UI text in the Chinese (Simplified) language. We've heard your feedback, and with this build we're updating this font to improve the legibility, symmetry and appearance.
We've added three additional weights for Microsoft Yahei: Semilight, Semibold and Heavy. The additional weights will be installed by default in ZH-CN builds, and available as an optional feature to download for non-ZH-CN builds.

We've scaled the glyphs to improve inter-character spacing. This makes reading easier and increases character recognition.
We've tuned the fonts with our new hinting algorithm so that the glyphs will be less jagged at small sizes.
We've redesigned all punctuations and symbols in the new fonts per customer feedback.
Here's a sample of the updated font – the blue is the new version, the grey is an outline of the previous font: